Auto Insurance in Ottumwa, IA, Bloomfield, IA and Surrounding Areas
Complete Coverage When You're Behind the Wheel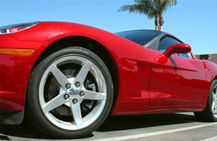 Proper auto insurance secures your independence and financial protection when you drive. It also keeps you compliant with the law. Whether you drive a car, motorcycle, or other vehicle, auto insurance is required.

At McCune and Reed Insurance, we deliver individually-tailored insurance solutions that meet your needs and fit your budget. We also provide personalized services that keep you informed and help you make the best insurance-buying decisions. Our goal is to keep you covered and to work quickly and efficiently.

If you need to know more about auto insurance or find out about your policy options, contact one of our dedicated specialists today.
What does Auto Insurance Cover?
Auto insurance is designed to protect you, your car, and other drivers and passengers. Collisions, injuries, and uninsured or underinsured drivers are just a few things that auto insurance usually covers.
In most cases, auto policies are broad and provide state-mininum coverage. This coverage does not necessarily meet drivers' individual needs; it just provides a general safety net for those on the road.
Accidents can happen at any time, and these accidents can cause damages that have devastatingly high costs. General auto policies do not often provide the coverage most drivers need to protect against risks related to these damages. This is why each driver should include additional coverage options in his or her auto policy.
At McCune and Reed, our coverage options include:
Liability Coverage
Comprehensive Coverage
Collision Coverage
Uninsured & Underinsured Motorist Coverage
Diminishing Deductible
Accident Forgiveness
Minor Violation Forgiveness
Choosing coverage options can be difficult because one must know the law, the meaning of each option, and how to combine options for the greatest value. For this reason and others, speaking with an insurance specialist before making auto coverage decisions is very important.
At McCune and Reed, our expert specialists are knowledgeable about markets, legal statutes, insurance trends, and all other aspects of comprehensive policy development. They will guide you through each step of the insurance-buying process and provide with ongoing support and counsel. Think of them as go-to resources for auto insurance information and tools.
Receive your Free Quote today.
Why McCune and Reed Insurance?
We have provided exceptional auto insurance solutions for more than half a century and our reputation for delivering exhaustive and affordable coverage and friendly and efficient services precedes us. We work with a vast array of nationally-recognized and diverse insurance carriers, and this helps us find coverage that meets anyone's needs.
We process claims quickly and respond to inquiries promptly. We are experts at identifying discounts and benefits that save money and make insurance easier to manage. Our greatest strength is our commitment to your financial security and ongoing satisfaction. Our greatest tool is the combination of our extensive experience and exceptional expertise. Altogether, these make us the premier auto insurance provider in our service area.
If you're interested in more information and would like to know about your policy options, please contact us.
McCune and Reed is proud to provide auto insurance in Ottumwa, Bloomfield, Fairfield, Albia, Oskaloosa, Centerville, and the surrounding areas.